Faced with persistent political and economic headwinds, all three of the Liv-ex indices – Liv-ex 50, Liv-ex 100 and Liv-ex 1000 – dipped in 2019. The Liv-ex 50, which tracks the performance of the First Growths, suffered the most (-3.6%), while the industry benchmark, the Liv-ex 100, fell 2.5%.
To put the performance of fine wine into some perspective, the chart below compares the Liv-ex 100 and the Liv-ex 1000 against global equities. While the fine wine indices have been relatively stable, they have significantly underperformed global equities as intertest rate cuts have upped investor's risk appetite. Hong Kong, a major source of fine wine demand, is notable for the Hang Seng's more modest performance. Both it and the Shanghai Composite Index have been drifting since the spring.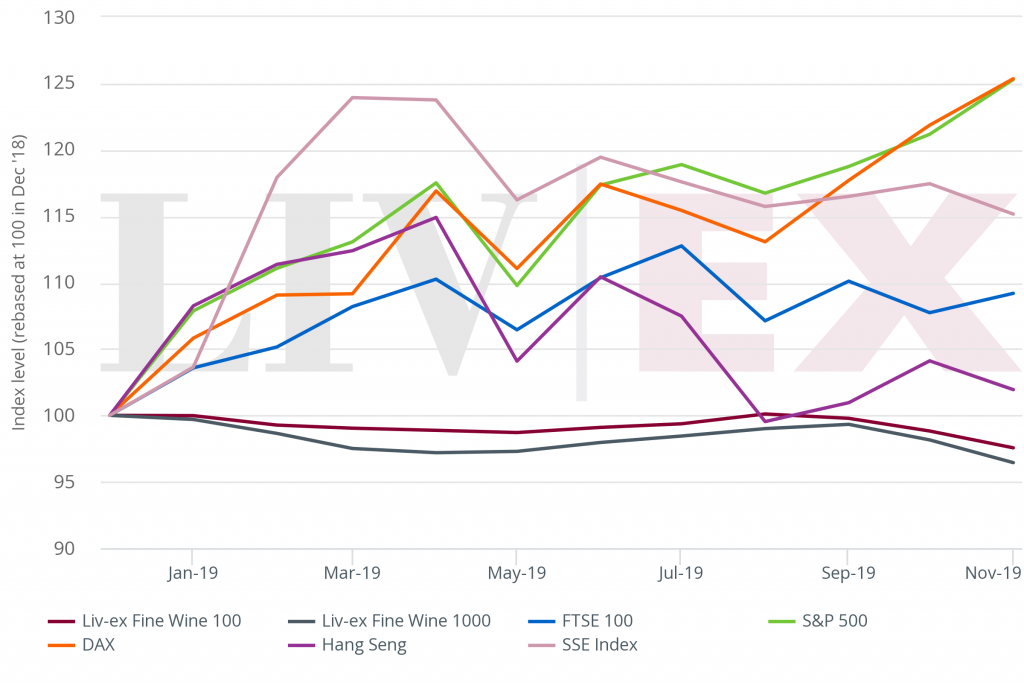 When it comes to regional performance, prices for Burgundy fell the most this year. In our summary of the year 2018, we suggested that "the relentless rise of Burgundy might soon be curtailed". As discussed in our January report Burgundy – in the spotlight, prices for the region had begun "to show increased volatility – often a sign of a turn". Year to date, the Burgundy 150 index, which hit an all-time high last December, outperforming global equities and Gold, has been the worst performing index, falling 7.3%. The Bordeaux 500 has dipped by a more modest 2.5%.
The Champagne 50 and the Italy 100 were the only regional sub-indices to make gains, rising by 2.2% and 4.6% in 2019 respectively. Our two reports, Champagne – a market without bubbles and The fine wines of Italy: past, present and future, explored their place in the market in some detail. Their price performance over the past year has been a reflection of increased attention from trade and critics alike – brand strength, heritage, a series of excellent vintages and comparably low entry points into the market have combined to avert the market's eyes from Burgundy and Bordeaux. Both regions were excluded from the recent imposition of 25% US import tariffs and have benefited as a result. 
You can download the full report here.