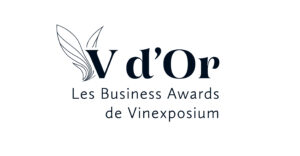 TROPHIES OPEN TO ALL PLAYERS IN THE INDUSTRY
So that everyone can share their actions with the global wine and spirits community, Vinexposium has made a strong decision to open up nominations to all professionals in the wine and spirits sector, both French and international, whatever their size.
REWARDING INITIATIVES THAT CREATE TOMORROW'S BUSINESS
To defend their initiative, the candidates are invited to complete their dossier online in the category of their choice:
• Best export strategy
• Best brand experience
• Best new business solution
• Best eco-friendly market launch
• Best joint initiative
• Best heritage initiative
Candidates can present one or more initiatives; however, each project can be presented in only one category.
The projects must necessarily have been implemented or officially announced after 1 January 2022..
To apply for this award, it is crucial to present an approach that is responsible and sustainable for both humanity and the environment. This can apply to one or more stages of your project.
APPLICATION PRINCIPLES
For this award, you will be evaluated on 5 detailed criteria on a scale of 1 to 4.
A 1 represents a project that doesn't meet the criterion. A 4 is one that responds entirely to the issue of the criterion.
To apply, you must provide observable and measurable elements that allow the panel to understand the concrete results of the project.
Access the full application rules.
• 4 May 2023: online applications open
• 1st October 2023: deadline for submission of applications
• From 16 to 27 October 2023: V d'Or panel voting for the nominees
• Autumn 2023: nominees announced for each category
• From 2 to 12 January 2024: V d'Or panel voting for the winners
• 11 February 2024: announcement of the Winners, presentation of the 6 V d'Or trophies and the V d'Or d'Honneur at the ceremony organised before Wine Paris & Vinexpo Paris 2024