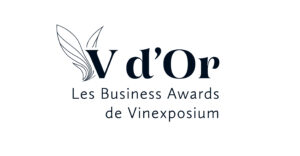 HIGHLIGHT INITIATIVES THAT ARE BUILDING A SUSTAINABLE FUTURE FOR OUR INDUSTRY
Vinexposium's Business Awards, the V d'Or, reward
the most ambitious and most responsible business initiatives
in the wine and spirits sector on an international scale.
Because the world of wines and spirits is constantly evolving and is a part of a fast-changing world,
the V d'Or awards reward the projects and achievements that are building performance,
responsibility, and community within the industry both today and tomorrow.
Divided into 6 categories, the projects will be evaluated by the V d'Or Panel, made up of
international professionals and experts from the industry, who will award the V d'Or
to the winners on 11 February 2024, ahead of the next edition of Wine Paris & Vinexpo Paris.
DISCOVER THE 6 CATEGORIES
–
BEST EXPORT STRATEGY
Rewards the best export growth strategy initiated
by a stakeholder within the wines and spirits industry:
launch on one or more new market, growth on a new market.
–
–
BEST BRAND EXPERIENCE
Rewards the marketing strategy implemented by a stakeholder within
the wines and spirits sector with the goal of offering
the consumer a memorable experience.
–
–
BEST NEW BUSINESS SOLUTION
Rewards the new business solution that disrupts the market.
A new business solution pertains to a service, tool, or digital
offering aimed at developing the sale of wines or spirits.
–
–
BEST ECO-FRIENDLY MARKET LAUNCH
Rewards innovative, eco-friendly initiatives surrounding
the market launch of a product:
packaging, merchandising, retail, etc.
–
–
BEST JOINT INITIATIVE
Rewards the initiatives of a group within the wines and spirits
industry (appellation, region, or other collective) in promoting a
winegrowing region or other collective project.
..
–
BEST HERITAGE INITIATIVE
Rewards initiatives implemented to allow the sharing of expertise.
These initiatives could just as easily involve the sharing
of a skill, a process, or even a domain.
–
"The V d'Or awards are a solid expression of our commitment to a sustainable and responsible wine industry, a symbol of excellence and of the preservation of our terroir for future generations."
Rodolphe Lameyse
"The wine world is full of strong personalities who express themselves constantly through ambitious initiatives and projects. We have designed the V d'Or awards to reward their energy and enthusiasm."
Michel Chapoutier
To share a project you have noticed, or simply to stay informed, please leave us your details below:
"*" indicates required fields