1 DAY, 1 THEME
JOIN US FOR SOME EXCITING MOMENTS IN AN AREA DEDICATED TO SHARING PASSIONATE AND ENGAGING EXPERIENCES AND INSIGHT!
THE WINE TALKS: A WAVE OF EXCITEMENT SWEEPS ACROSS WINE PARIS!
Revolving around three prominent, targeted themes – taste, organic and environmentally-friendly schemes and innovation – the Wine Talks will epitomise the vitality of the wine industry and echo current and future trends and consumer expectations. An inviting, refreshing hotbed of discussion in a round-table format, it will allow a raft of passionate and engaging personalities to take the floor and share newly-minted ideas.
MONDAY 10 FEBRUARY: DELICIOUS DAY
The myriad aspect of taste
Delicious Day will be the focal point of the opening day. There is no question that the wine world elicits the senses and taste buds, paving the way for a range of content to be explored: taste as a vehicle for emotions, transmission and culture; the multi-faceted connections between wine and food and their evolution. As consumers become increasingly knowledgeable, they are more receptive to new flavours and seek out originality as a source of pleasure in what they drink and eat.
This highly charged topic will echo the role of the wine merchants, restaurateurs and sommeliers who select and source wines, thereby acting as conveyors of stories and tastes to their customers.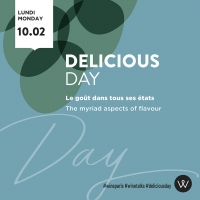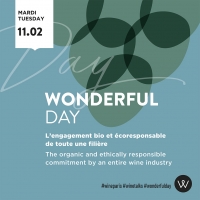 TUESDAY 11 FEBRUARY: WONDERFUL DAY
The organic and ethically responsible commitment by an entire wine industry
Tuesday will be a 'green' day! The multi-faceted organic, sustainable and ethically responsible trends, at both production and market distribution levels, will be deciphered. The aim is to gain a better understanding of the significance and relevance of certifications; gauge their value and profile; decipher upcoming certifications and endorsements; and to get a handle on consumer responsiveness.
This theme tackles a critical, anticipated and constantly evolving topic and the commitment by all businesses affected by these deep-seated changes, in a bid to build tomorrow's world.
WEDNESDAY 12 FEBRUARY: CREATIVE DAY
The dynamic effect of innovation to improve wine sales
And last but not least, the final day will address innovation and how it facilitates transmission and conversations between the influencer and the buyer, making the buying and consumer experience more rewarding. Through new products, new sales methods and disruptive tools and services, wine 2.0 is emerging and offering up new prospects, spearheaded by a range of businesses, both traditional and new to the industry, including start-ups.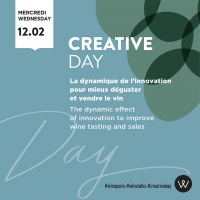 THESE THEMED DAY EVENTS HAVE RECEIVED THE PATRONAGE OF OIV (INTERNATIONAL ORGANISATION OF VINE AND WINE) FOR THEIR CONTRIBUTION TO CREATING AND SHARING INSIGHT WITH THE GLOBAL WINE INDUSTRY.